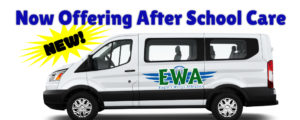 Can't get off work in time to get your kids from school? Work from home and need more time? Let Eagle's Wings Athletics After School Program help solve that problem. Your child will be transported from their school to Eagle's Wings. Students will get a snack, gym time, and homework time all while in a safe and fun environment.
Eagle's Wings after school is available 1 to 5 days a week, with affordable monthly billing. Pick-up is by 6PM.
$100 Activity/Registration Fee (Per school year)
Autopay is required.
1/2 Day Afternoon Camps are included as part of your tuition on school holidays, students need to be registered for our school out camps.
MONTHLY BILLING
1 Day = $205
2 Days = $250
3 Days = $285
4 Days = $305
5 Days = $350
After School Members also receive: 20% off school out/summer camps
AFTER SCHOOL DISCOUNT AVAILABLE (4 or 5 days required)
Free class of your choice
10% Teacher Discount
Sibling Discount (can't be combine with teacher discount)
DROP-IN CARE (3:00PM - 6:00)
EWA offers non-transport, drop-in care. This is perfect for those unexpected emergencies or situations that pop up from time to time.
Pre-register online $50 per child
Same-day $60 per child
Now registering, call to confirm school locations
PROSPER ISD
Light Farms
Boyer
Hughes
Cockrell
Sam Johnson
Reeves
Founders Classical
CELINA ISD
Call to see if your school could be added
ANNA ISD
JKB
Sherley Rosamond
Ratton
Harlow
MELISSA ISD
Melissa Education Center
McKillop elementary
North creek elementary
PROSPER ISD
Bryant, Stuber, Hall
Do you have any questions? Contact us!