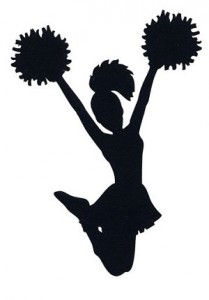 General Information:
Eagle's Wings Athletics offers recreational classes for anyone with the desire to learn more about cheerleading.  Our cheer prep classes are for ages 6 and up and combine basic tumbling skills with jumps and cheer movements. The focus of our recreational classes is to build skills as well as self-esteem.  We offer an 8:1 student/teacher ratio.
*Please wear shorts and a form-fitted shirt.
Register for a trial class online
Cheer Prep:
Weekly – 90 Minute Class
Ages 6+. This class is a combination of cheer movements, jump and tumbling and is great for athletes wanting to be cheerleaders.  Kids will spend 1/2 of the class learning the latest cheer moves and jumps and the other 1/2 learning how to tumble. This is open to boys and girls.
We are being told that Wesley (Road from Frontier to gym) will be closed as soon as today, August 5th. Our detour will be to go around the stadium and enter from the south end of Wesley from the stadium parking lot. They are building a road from the business park in front of the…
Read More