Dear Parents,
As you may have seen or heard, a portion of Frontier Parkway is going to be closed to start the widening of Frontier Parkway and the bridge going over the railroad tracks. We will still have access to the gym but, it will be via detours.
If you are coming East on Frontier from the Tollway, you will turn by Frontier Park and go around the Southside of the stadium to a secondary access point on the Eastside off Wesley. Wesley is the street you currently turn on from Frontier.
If you are coming West on Frontier from Preston (we are assuming this will be possible), you will turn right on Worthington (Light Farms), Left on to Light Farms Way, Left on to Prairie Crossing to Frontier and then proceed around the stadium to the Wesley Access Point from the South East corner of the stadium.
During this time they will be building the new Dylan Drive road that will run along the outside of the stadium fence. It will connect directly to stadium drive. Our understanding is it will take 6 months to build Dylan Drive (so plan for 9 months).
We are told Frontier will take 2-3 years to complete.
The link below is a flyover version of what Frontier should look like.
This is a map of the detour around the stadium.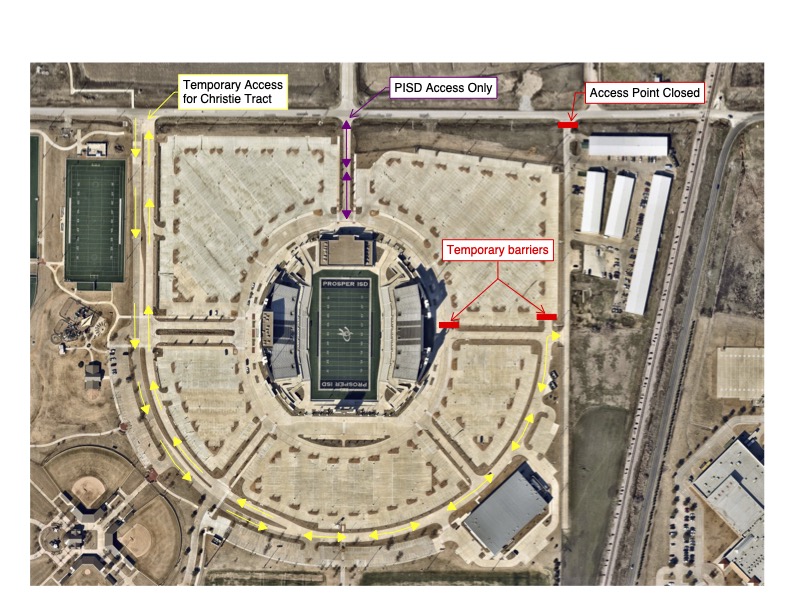 Respectfully,
Bret Stout
Eagle's Wings Athletics