Bret Stout - General Manager

Bret is the founder and owner of Eagle's Wings Athletics and has been working with EWA since it's opening in 2003.
Bret has an extensive Spider Man collection and welcomes any new additions to his collection at any time!
Bret began his coaching career at Richardson Gymnastics in 1986, coaching tumbling and men's gymnastics.
He moved to coaching trampoline and tumbling in 2003 with the opening of EWA.
Torrey Gilbert - Office Manager
Torrey started working for EWA Anna in January of 2017.  Torrey is tasked with class registration, tuition and additional activity sign-ups.  He also works with communicating with parents and coaches to make sure kids get the sign-up for the right class.
Torrey enjoys comics and super hero movies, when he is not out serving others.
Chloe Brennan - Head Girls Team Coach
Chloe started coaching with Eagle's Wings in May of 2018.  Chloe started coaching in 2014 following a long career as a gymnast.  She started gymnastics when she was 3 years old and grew quickly into a strong competitive gymnasts.
Bailey Maxvill - Class Instructor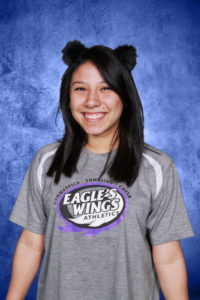 Bailey is currently living in Richardson, Texas.  She enjoys spending her free time with her good friends and families.  Ever since she was 7 years old, she found her love for cheerleading.  She joined the competitive cheer at Eagle's Wings when she was 10 years old.  She loves coming to EWA , because it became her second home.  Now she is enjoying working with the preschool, tumbling, and cheer students at EWA.