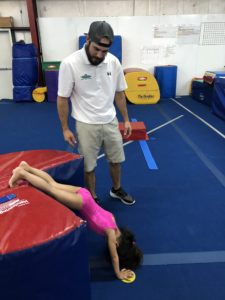 General Information:

At Eagle's Wings Athletics we believe our Preschool Program should prepare our youngest students for any type of athletic experience they may participate in during their youth and throughout their life.  We want them to learn that movement is fun and healthy and will provide them with many opportunities and challenges to enrich their lives.  Gymnastics instruction is the basis of our program, but we also add lessons to help learn other sports skills and activities so they will have a broad base of physical abilities and experience. We offer a 6:1 student/teacher ratio.
Register for a trial class online

Hatchlings:
Weekly - 45 Minute Class (Ages 18 months – 3 years)
Hatchlings is a class for students and their parents to learn together. The objectives of the curriculum are: Practice age appropriate gross motor and perceptual motor developmental activities such as jumping, rolling, balancing, bouncing, eye hand and eye foot coordination, and basic motor patterns. Get lots of vigorous large muscle activity. Practice interaction and activity with other students and adults in the class. Learn to enjoy organized physical activity.
Eagletes:
Weekly - 45 Minute Class (3-4 Year Olds )
Eaglets is a class for boys and girls 3 years of age. Athletes learn basic skills on beam, bars, rings, trampoline, vault, and tumbling. We focus on safety, perceptual motor skills, and fundamental sports skills. The objectives of the class are: Practice the basics of gymnastics and sports skills, learn to listen and follow directions, be a part of group activity, and show respect to classmates and teachers. They will also get a vigorous large muscle workout, and enjoy organized physical activity.
Blue Wings:
Weekly - 45 Minute Class (Adv 3-4 Year Olds)
Blue Wings is a class for boys and girls 3 - 4 years of age. In this class they start focusing on more gymnastics body positions and skills on each event. Boys and girls continue to work on each other's equipment as it is important at this age to continue to build strength and balance for both genders. Athletes are individually challenged on each event. We teach more sports skills and some simple strength and coordination activities. The objectives of this class are: Learn good gymnastics body positions, practice and perform individual level appropriate skills on all the gymnastics events. They will also, practice the fundamentals of sports skills, such as: throwing, catching, kicking, and striking. They will demonstrate the ability to participate in group activities such as: following directions, taking turns, helping classmates, asking questions, striving to learn, and enjoying organized physical activity.
We are being told that Wesley (Road from Frontier to gym) will be closed as soon as today, August 5th. Our detour will be to go around the stadium and enter from the south end of Wesley from the stadium parking lot. They are building a road from the business park in front of the…
Read More